| | | |
| --- | --- | --- |
| | 1968 whaler 13 (cayares's Personal Page) 06/03/2010 | |
A 1968 13 foot Boston Whaler Standard that was in need of restoration. I was lucky enough to find a console which I will be adding despite the boat being a Standard originally. The boat had a Mercury 15hp motor at the time I bought it. I recently purchased a 1998 Johnson 35hp motor. This motor is electric start and is a long shaft. I plan on buying the Transdapter to accommodate the long shaft motor.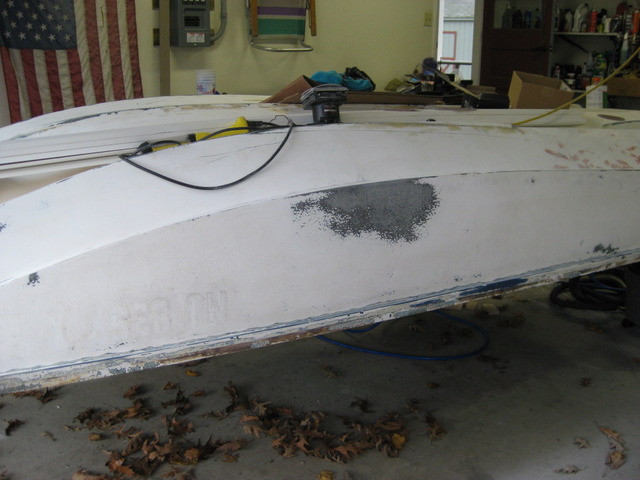 The gelcoat on this hull had a lot of cracks. Once we started sanding on the it, we realized the gelcoat would crumble and powder off. At this point we decided to sand the gelcoat off to provide for a good surface to paint on.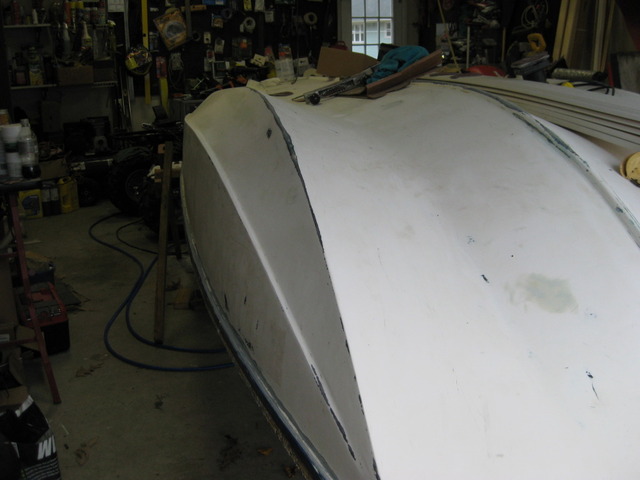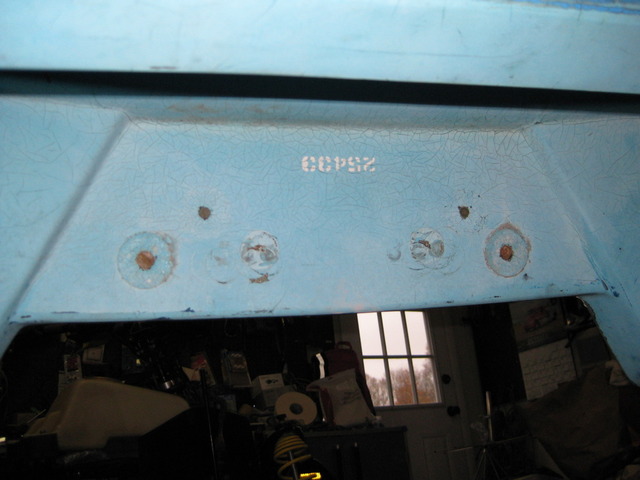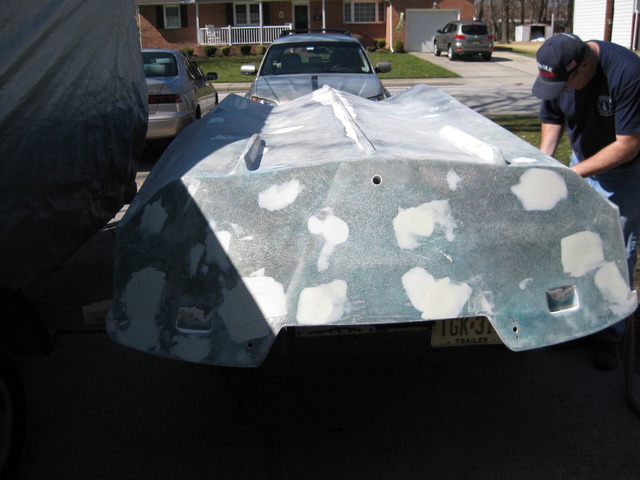 It was good to get the hull down to the underlying glass and see what needed to be repaired. Lucky for us, there was not a lot of fiberglass to repair. We used 3M filler where needed.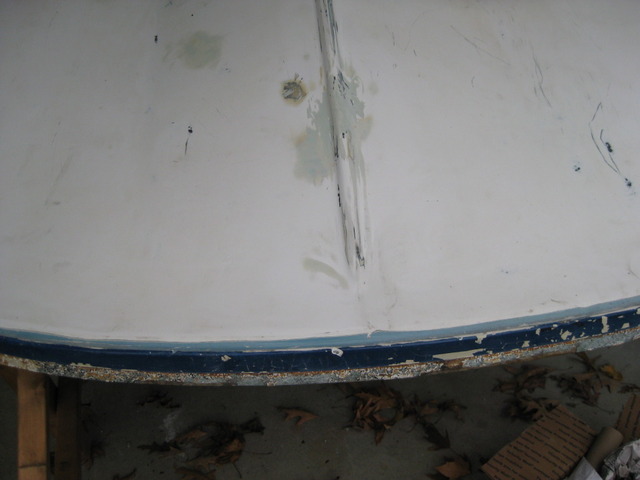 The front hook area was repaired using West Epoxy and contoured with 3M filler.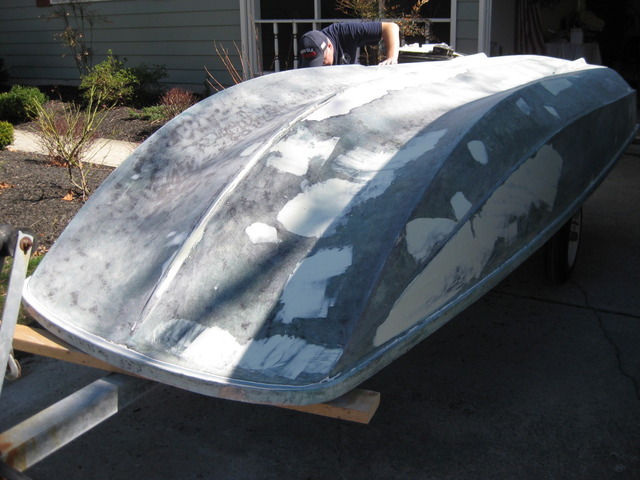 A lot of sanding. Itchy, dusty, process.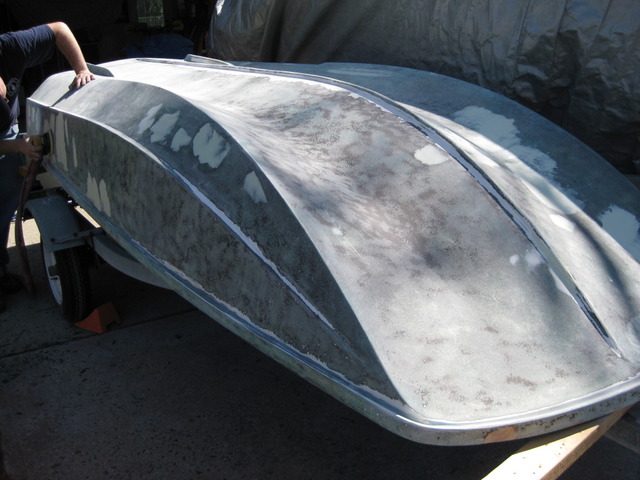 And more sanding.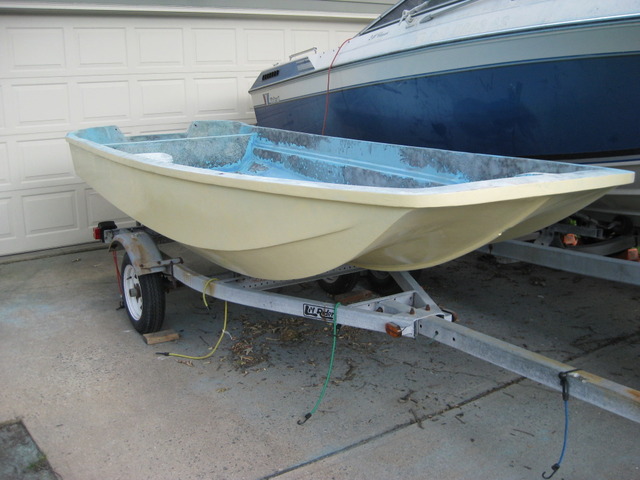 The bottom was rolled-out with two coats of Interlux Epoxy Primekote. Then three coats of Interlux Perfection, color Fighting Lady yellow. Tipping each coat out with a paint brush with a little solvent on it.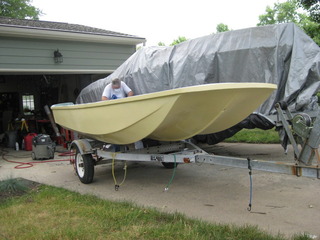 Now it is time to tackle the inside. Same process, more sanding!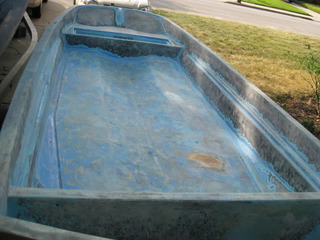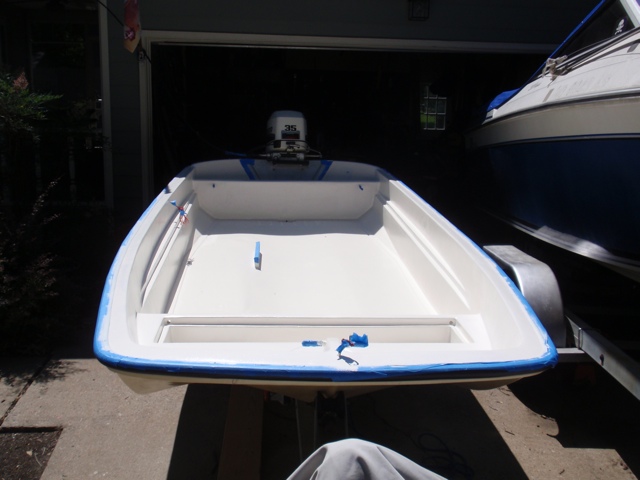 The interior also got 2 coats of Interlux Primekote. We then painted 3 coats of Interlux Brightside. As we continued to work on the boat. The Brightside was not holding up too well. We decided to sand it down and put 3 coats of industrial tank 2 part epoxy paint with nonskid on it. This finish is really tough and will holdup well to abuse We also installed a new 3 piece rub-rail system.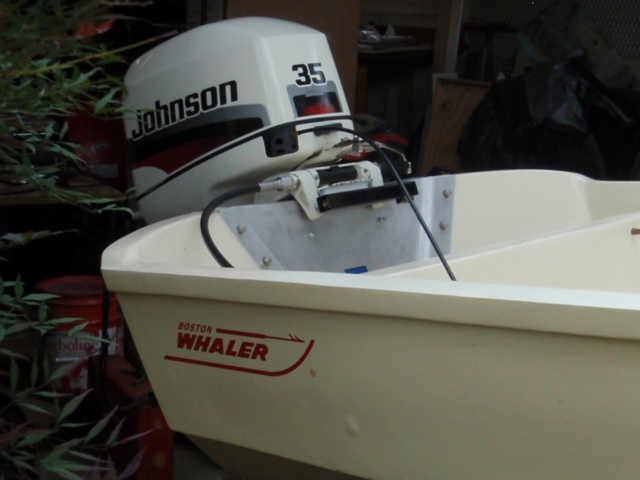 The used 35 hp ob we purchased for the project. Mounted on the Transdaptor because it is hard to find short-shaft used ob motors anymore.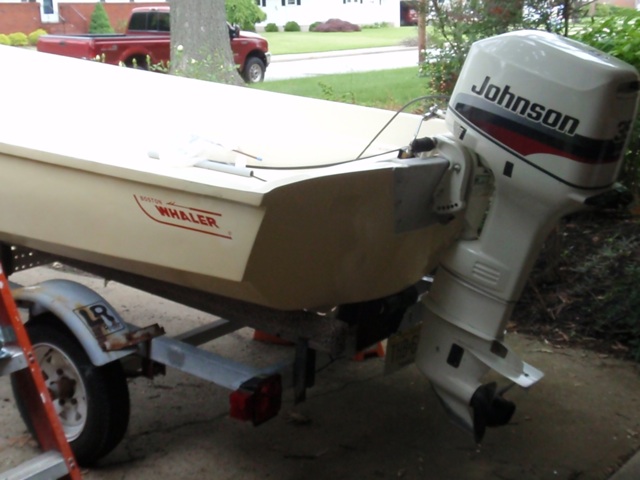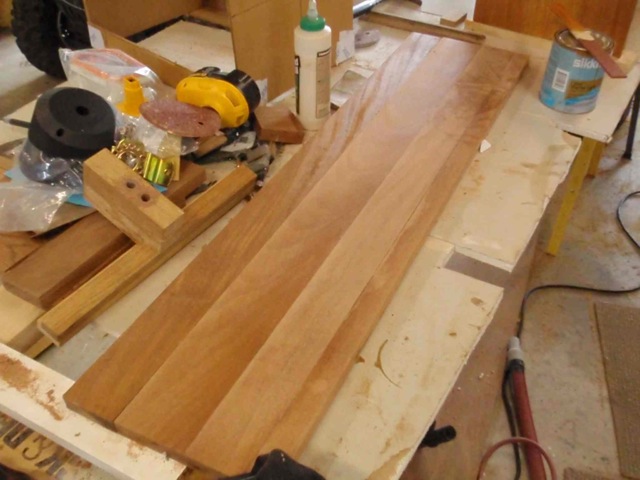 New hatch cover was built.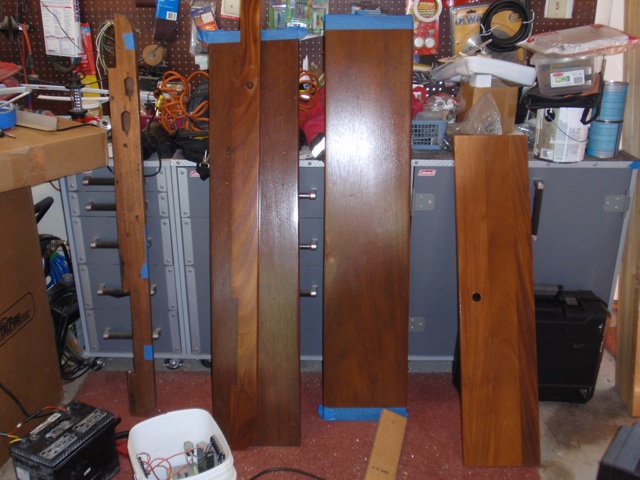 The boat came with Mahogany seats that we were able to sand down, stiffened the underside with oak strips to prevent warping, and refinished with 4 coats of Cetol.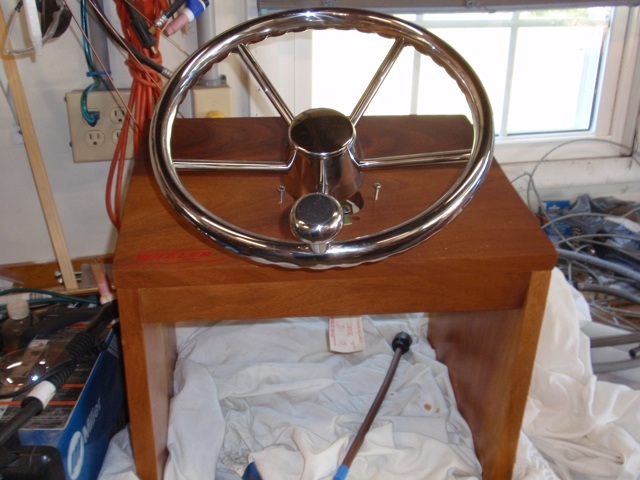 The new console we built was a really nice woodworking project to work on. We also installed a Teleflex Safe-T steering system with a new steering wheel.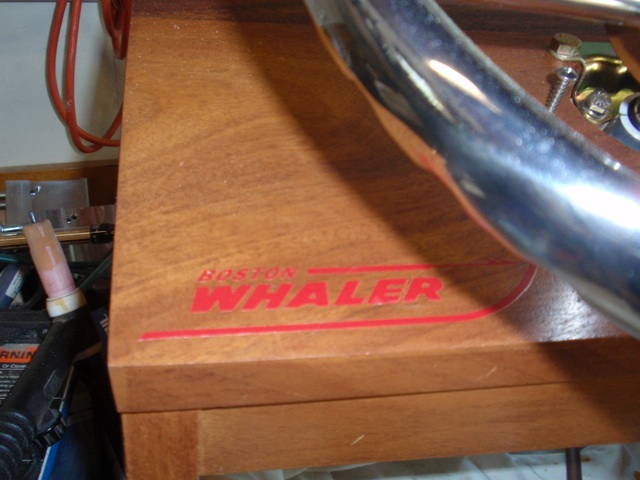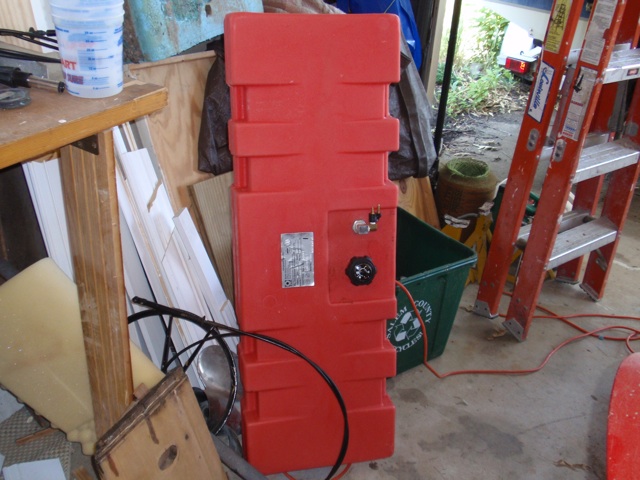 A new low profile fuel tank to fit under the front bench seat. We did not drill a hole in the seat for the filler. We moved the tank forward, just enough to get the cap off. We used sealant to install plastic angle for additional support for the tank.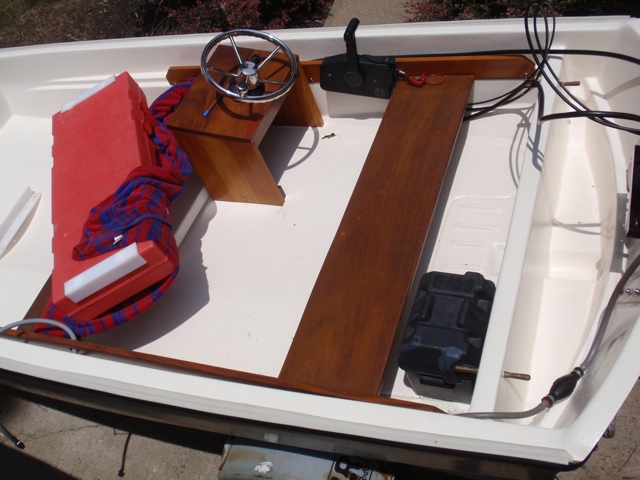 Interior install time!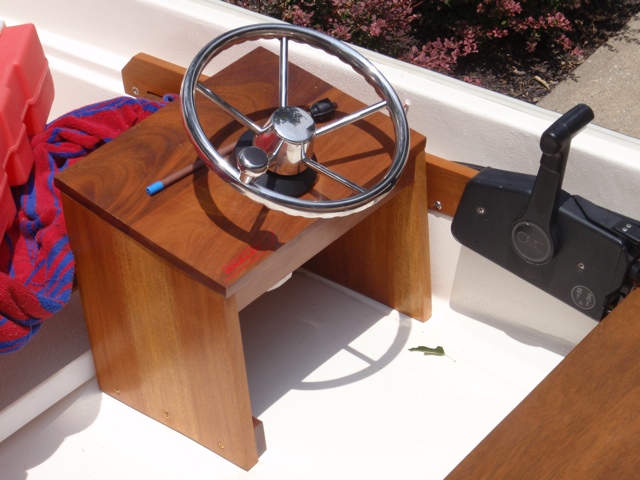 Found a used OMC controller at my local boat dealer. It is getting time for a shake-down ride.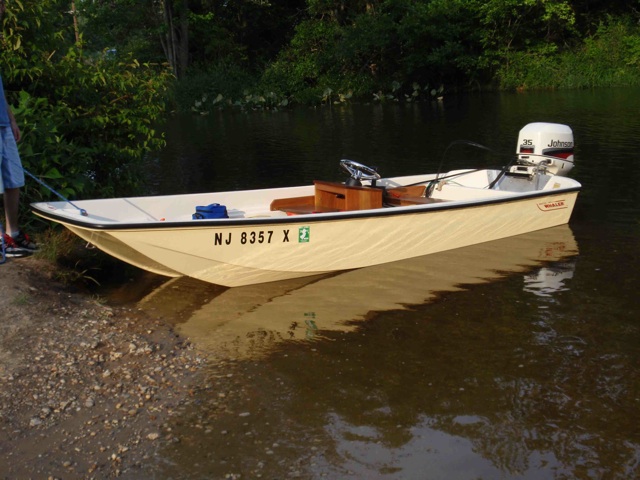 Time for a shake-down ride. The fruits of our labor.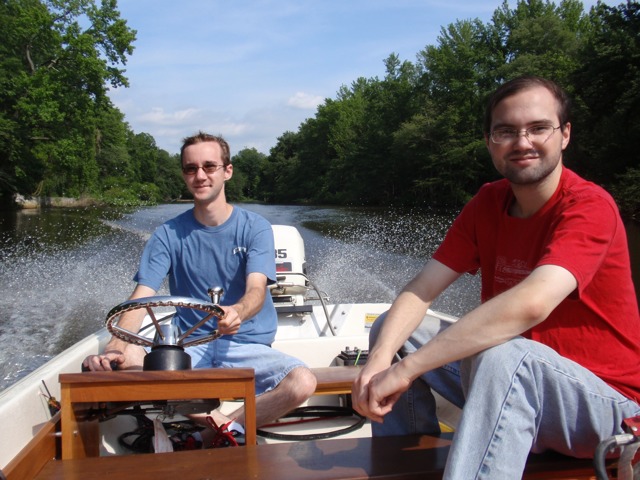 The captain at the helm, and my brother. Whenever we push the throttle down, we both get a big smile on our faces.
Date Posted: June 3, 2010 - 11:04 AM


It looks like lots of hard work but will look great when you are done.
Date Posted: June 16, 2010 - 4:04 PM


Looks great so far. It is great to see these classics get a second life.
Date Posted: June 16, 2010 - 4:20 PM


nice man i got a 67 13ft that i'm restoring i'm thinking of putting a 30hp e-tec short shaft on it
Date Posted: June 27, 2011 - 9:44 AM


I hate to say it now but have you thought about moving the seats forward for better weight distrobution? The standard had the seats farther back for using the tiller. Just a thought but the boat looks great.
Date Posted: July 5, 2011 - 4:30 AM


I know how much the tank up front helps. I have an 18 gallon one like yours and it is nice because now my wife can sit next to me not up front. Boat looks great and glad it worked out.
Date Posted: July 5, 2011 - 5:45 PM


I was a little confused on who's boat this belonged to. It turns out we have a father and son team. mayares and cayares. Boat looks real nice after all the hard work you have done.
Date Posted: July 8, 2011 - 12:40 PM


Thanks, Joe. We could not have done this restore without the endless info provided on whalercentral.com. We were out crabbing today. It's hard to get to the ramp because when we go to get gas, everyone comes over to look at the boat. Today we had two guys at the gas station saying they both had whalers. One guy said he would not get dirty, instead, he would put it in his living room and sleep in it. Pretty funny. Yes, I am the father, Mark, and my 21 yo son Cory both worked this boat. We really enjoy it now.
Date Posted: August 17, 2011 - 7:25 AM


You guys rock!
Date Posted: July 2, 2012 - 1:38 PM


Thanks for the details and the pics - boat looks great!
Date Posted: March 28, 2013 - 10:01 AM


very nice!
Date Posted: April 20, 2014 - 5:53 PM


Wow...what a nice project & job well done! Congrats, and yes I see you & Bro's smiles with wake in background. I have 1993 14' Rage Jet that has gotten a bit long in the tooth..and might just purchase a 2003 13' Sport w/50hp Merc to make life easier..but I will miss hitting the shallow spots at full speed with the Jet. Bill in Hilton Head Island, SC
You must login to post a message.
February 18, 2018 - 4:03 AM
Welcome
jjgarc5
as the newest member
---
·

Guests Online: 10


·

Members Online: 0


·

Total Members: 39,036

Not a member yet?
Click here
to register.
Forgotten your password?
Request a new one
here
.